Memories of the Ames High Class of 1957 after our 50th Reunion
INTRODUCTION
At the 50th I didn't get to talk as much as I wished to enough different friends. I came home to Bakersfield and started to write down some of my memories. I do not pretend to be a wordsmith like Ted [Kooser] or Susan [Toth], but here are some memories and new stories that recently came to me.  They might be of interest to you.
Before I start this, I need to tell a story. In 1955 when my brother and I helped to talk my father into purchasing that red VW convertible, I received what I call an Ames lesson. It was maybe three days after the car purchase and when I came home, Dad asked me, "did you tell anyone about our new car?"  Of course, being sixteen and thinking that VW was pretty neat, I answered "yes".  Dad then told me a friend of his had called to tell him that I had been bragging around town about the car. Dad told me never to brag.  Well, in this paper I am not bragging because I am telling a history of my memories and perceptions, which include how proud I was and am of my friends from the class of 1957. If I were telling the class of 1958 about our class, I would be bragging.  At any rate, having lived in California for the past forty-four years, I am not bound by strict Ames Rules, yet pretty much lived by many of them.
As you remember, we had one hundred seventy six graduates in our class and we have lost twenty-five.  Eleven of our classmates were U.S. Merit Scholars at graduation and twelve would earn doctorates at universities all over the U.S. One played in the National Football League for seven years and, by my count, three became self-made millionaires. I am not included on any of the mentioned successes. We all have been aware of and proud of the talents of our first class author, Susan Allen Toth, and the 2005-2006 U.S. Poet Laureate, Ted Kooser. Marvelous, and we were sorry that a family emergency kept Ted from being with us. From time to time, I hear him reading his poetry on NPR and understand he is drop-dead-funny speaking in front of crowds, but we missed that. I remember him as a gentle and kind classmate, quick to support the teams at games and, really, I don't know of anyone who didn't like him.
At the reunion, I was impressed by the level of personal satisfaction I sensed from our classmates. It seems we had a class of doers and shakers and are pretty satisfied with the roads they chose.  I know there were those who must have had their personal tragedies and all of us had heartaches, but that is life.  I knew many of our class from my earliest years of elementary school. Enclosed are some stories and pictures just for fun. I have included some of what I wrote for the 50th. Anniversary reunion of our 1956 State Championship football team. And, thanks, again, to Jim Dresser for organizing that event. You will find that below with some corrections and new stories.  I have saved in print and memory stories from our football, basketball, and track teams, but not so from golf and tennis. I remember that Chuck Elder and Ben King were good golfers and Elder went to Oklahoma State on a "ride".  I remember George Torrey being one of our best tennis players, but I don't have any articles on how those men faired in league and State competition.
I have many heroes from our class and one is Roger Teig. I met and spent some growing up time with Rog starting in junior high. He was raised by his mother and had the most beautiful sister. Sadly, she was too old for boys my age. I was attracted to Roger's easy sense of humor and good values, but it was his tiny motorcycle called a Doodle Bug that regularly pulled me to his home.  Roger and I re-connected as adults in California and I remember that he became one of the first successful businessmen in our class. He told me how he struggled through Iowa University and was about ready to drop out of school for financial reasons when Margie Hirschburg's father, "Skeeter", told him that he would help him if necessary. I don't know how much Skeeter helped, I don't think it was very much, but it was enough to keep Roger in college to graduation. I got the impression that it was as much that he knew Skeeter was there just in case that tipped the scale for him to stay and complete his college degree.
Roger became one of my heroes when he did the same for one of my Bakersfield College runners. This was a young man similar to Roger by the name of Nathan. As Roger, Nathan was raised only by a loving mother and was a good but not great student.  After graduating from BC, Nathan received a partial "ride" to Fresno Pacific University. As a private university, his scholarship didn't nearly meet his expenses so he worked part-time jobs. He ran into financial problems and told me he would have to drop out of FPU. A few days after he told me that, I was with my BC track team at a competition in Salinas and had dinner with Roger and Gale. I told Roger about Nathan and how he reminded me of him in many ways. Without a blink, Roger offered to help Nathan when the need became severe. A couple of days later I called Nathan and told him about Roger and his desire to help him if needed to keep him in college. I told him he had an "angel" and should contact the angel through me. I told him my friend Roger was serious with his promise to help. Nathan never called and he graduated from FPU. He later told me what a great comfort it was just knowing there was someone ready to help. Way to go, Roger!
I want to again thank Patti and Shirley for all the hours spent to make the reunion success. Also, thanks to Barbara, Barbara, Lynn, Bob Callahan and John Sylwester for your contributions. And, thanks, John and Larry, for sharing your wives with this project.
For the sake of strangers who might read this, our high school was formed from two junior high schools. One was downtown Ames named Central and the other was in west Ames, campus town, named Welch. Both buildings are gone but the old Welch football field is still there. On that field in 1951, I first discovered how fast Cliff Cushman ran as I attempted to catch him running with a football.  As we grew up, we ate ice cream at Moore Dairy across the street from Central.  One dip cost a nickel and two cost a dime. Bread at the grocery store cost twelve to twenty cents, the best hamburgers were a quarter, and a movie cost us a dime and an adult paid a quarter. We could ride our bikes anywhere in Ames, park and never worry about theft. "Hanging-out" met helping your mother hang clothes out on the backyard line to dry and "gay" met a happy person.  When the Ames Historical Society archivists talked about the many parades in Ames, which brought back some memories. When it was announced that World War II was over in 1945, I remember my mother taking me to Main Street to walk in a celebration parade. I pounded a spoon on the underside of a pan.  There was another parade in 1948 and Jack Stevens and I walked dressed like track athletes in shorts and t-shirt carrying a large poster advertising the London Olympics later that fall.
Also in 1948, General Dwight David Eisenhower came to Ames from visiting Mamie's home in Boone. He was the hero of D-Day and the defeat of Hitler. I rode my bike downtown to see him. I took his picture as he addressed the crowd at the railroad station. When he climbed into the convertible to take him down Main Street, it stopped right by me and I walked right up to him and asked if I could shake his hand. He nodded, shook my hand, then I asked Mamie if I could shake her hand. She smiled that Mamie-sweet smile, reached across the car and shook my hand. Then the car drove off up Main and I rode my bike home. I couldn't wait to tell my parents all about what had happened they had missed. I tried not to make it sound like bragging.
I saw my first Ames High basketball game at the gym in 1945. I remember the name of one of the players, Don Arney, whose shoulder would occasionally dislocate. In serious pain, he had it manipulated back into place at the side of the court, then continued to play.  I also remember before the start of every game the five Little Cyclone starters kneeled in a circle, heads to the floor at the foul line to do something I wasn't certain what. The crowd became silent and someone told me they were reciting the Lord's Prayer together.  How odd, I thought, but that tradition was still in place when our teams played.  Some years later the tradition was stopped and I was told it was because of the church and state conflict.
As we came to the mid-1950s, the price of gallon of regular gasoline ranged from 18 to 25 cents, McDonalds and Burger King had not yet arrived, and pizza first came to Ames in 1956 and was not yet popular. The contraceptive pill was released our senior year, but we considered it not to be trusted.  In 1955, a band calling themselves Bill Haley's Comets introduced rock and roll with Rock Around the Clock and music was changed forever.  In the early 1950s, European products were being imported and in Ames of 1953 a car dealer by the name of Red Dale sold the first Volkswagens. They were ugly-cute and didn't race up any hills but became popular for their efficiency. In 1955, my father purchased a red VW convertible after much prodding from his two boys. I seriously doubt that Dad would have agreed had we known the VW had been the brainchild of Adolph Hitler.
In June of 1955, my parents drove Dave Sucher and me to the National AAU Track & Field Championships at Boulder. We were stuffed in the back seat but enjoyed the entire trip and that for me today shows what the flexibility of youth can tolerate.  My father wanted the best and lowest priced track shoes for his runners. So, without commission or pay, he worked with Vic Young of Vic Young Sporting Goods in Des Moines. Vic was a kindly, tall, thin man, an Abe Lincoln look-a-like, and a great businessman. After all, he had the possibility of selling over one hundred pairs of track shoes to Ames High athletes without paying for a salesman. Dad fit the shoes to his runners in our home, collected the money from the boys, placed the order, and then Vic would deliver the shoes to Ames.  By 1954, the German track shoe Adidas came to Vic's store and Dad received some of the first shipment for his Little Cyclones to try. Adolph Dassler had started to export his Adidas to the world and they were fabricated from the lighter kangaroo leather. And, they were the first red track shoes I had ever seen.  Dassler's company name was derived from his nickname, "Adi", and the first three letters of his last name. When his shoes came to us we recognized a great product, much lighter and softer than any the American-track shoes from Wilson or Spot-Bilt. I am pretty certain our team wore the first Adidas in Iowa. As our teams went undefeated for two years, I gave the shoe some of the credit. Regardless, Adidas soon became the standard of the industry and by 1964, the most popular track shoe in the world. Again, if my father had known that Dassler had made boots for Hitler's army in the 1930s, I wonder if he would have encouraged his runners to buy them. Of interest at least to me, Dassler's factory was in the small, southern German town of Herzogenerauch, a town about the size of Ankeny in 1950. It was spared the bombings of the war so quickly was able to retool and move from boots to sporting shoes. Adi was a soft-spoken, friendly man and wore a shoemakers' apron when I met him at his factory in 1965. He reminded me of Geppetto in Pinocchio. Across town less than a mile away, his brother Rudolph was producing a track shoe with a width greater than the Adidas shoe. He named his company Puma. His track shoes were not as comfortable to me as Adidas and they never became as popular as his brother's.
FRIENDS
My family came to Ames in 1944 and moved into 1213 South Second. My first acquaintance who became my best friend was Bob Callahan. He remains what I consider to be as good of a friend as I have ever had sixty-four years later. We were both five when we met and around the corner lived Marvin Berry. We three went to kindergarten at Whittier School and met the cute and shy Margaret Struble. Well, I know Cal and I were shy and probably more so than Margaret and Marvin, but I know we all thought she was special.  After one year, my father bought a bigger home from Bill Vogt, who moved just two doors south. His daughter, Barbara, was one of the first persons I met there and we went through all the grades together. Bill Vogt was a great Ames High fan and support. In 1969, he was voted by the Little Cyclone coaches as the #1 AHS fan over the previous forty years, and that was saying something. I would still see Callahan from time to time when our mothers brought us together, but I started to make some new friends. There were the Fain brothers, the Spear brothers, Gordy Hurtz, and many from the picture taken of Mildred Sheldon's second grade class around the May Pole (see below). It was taken from the Ames Tribune and you should find many familiar names.
In those first years of elementary school, my best friends were Jack Stevens, Chuck Elder, Terry Moore, Bill Gammack, Joe Prather, and Peter Getz .They lived the closest so we played, shot BB guns along the railroad tracks at cans and birds, and on many summer nights played kick-the-can. We became aware that on some dark summer nights we had the spectacular shimmering and dancing Northern Lights to watch. In the winter we sledded down the hill by Pine Forest, played basketball at Joe Prather's garage or on Saturday afternoons at the AHS gym, and went to the matinees at the Collegian Theatre. At school recess, among other games, we played soccer without sidelines or predictable goals on the school ground and the first classmate picked was usually Chuck Kilstrom wearing his steel-toed boots.  As we neared junior high, I remember Pete Getz demonstrating his mother's new garbage disposal unit by dropping a Coke bottle into it. For clatter and grind, that was really something, but the bottle was chopped up and the disposal didn't break.
Roosevelt Fifth Grade Class, 1948
My uncle brought me my first camera in 1948, an Argus C-3, and it started my life-long hobby of photography. Enclosed is a picture of our fifth grade class I took. You can find many recognizable classmates who went all the way through high school with us. The tallest boy in our class was Jack Combs, 5'10" tall and with what looked like a 5 o'clock shadow. He was the center of our basketball team. In front you can find Bonnie Rhoades, Patti Miller, and Ann McDowell. On the second row I see Jack Stevens, Joe Everds, Judy Clark, Diane Brown, Richard Simmering, Paul Nelson, and Fritz Rosebrook. Then, in the back with Combs are Terry Moore, Chuck Elder (I think), Joe Anderson, Paul Borts, Jan Christensen, Pete Getz, and Joe Prather.  The rest I do not remember. In second grade I chased the pretty Judy Clark down the alley toward her house, but couldn't catch her. A girl who could run fast was interesting to me. My life's first date was Patti Miller in the sixth grade. We were crossing guards together and I was smitten. I asked her to go to a Saturday afternoon movie at the Collegian with the very cool lines, want to go to a movie with me? I'll meet you inside. Patti and I have laughed about that many times over the years.
At Central, I added Roger Teig, Bill Stuart, Karen Bradley, and the talented Ellen Molleston to my list of friends. I was asked to introduce her to an assembly for her to play a piano solo. My introduction from her script was, "Here is Ellen Molleston playing the "Choppin" Waltz". She looked at me with that "you are so stupid" expression and whispered, that's pronounced "Cho-pan".  I turned red and corrected my error. In high school we were all there, and Callahan and I became fast friends again. He introduced me to the Welch crowd and I became good friends with Don Soults. Soults could crack me up with nothing. I would visit his home and there he was wiring radios and stereos which totally amazed my non-technical/non-mechanical mind. A doctor had told him he had a dangerous heart murmur and couldn't play sports.  He didn't seem to mind, but he was so athletic I wondered if he missed being on our teams. I lived since age four with a functional heart murmur not considered dangerous, so I played everything I could. At the 50th., I discovered that as an adult he discovered his murmur was also of the  functional variety, and he started running for fitness.
As sophomores, Bob Callahan and I felt we were really clever and destined to do something really stupid together, so we did. We asked Principal Herb Adams if we could make some morning announcements on the school PA. With the same B.C. initials, we called ourselves the "Bob-C twins" and attempted to funny-up what we wanted to announce. I know we made a few announcements, but mercifully we somehow stopped. Cal introduced me to John Sylwester and I immediately liked him as did everyone else. He became our "Mr. Orange and Black" and still is. If there was a beating heart of school spirit for the class of "57, John would be one of the chambers and Patti, Bill Gammack, and Dorothy Vanderwilt would be in the beat.  I also came to know Kathie Howell, Larry Christy, Gordon Ericksen, Edith Lilly, Liz Spedding, Bill Stover, and Celia Hammond. To me, along with Ron Lee, they seemed to pull down all the top grades before the term curve wreckers was used.
I met Ron Lee as a sophomore and realized his huge intellect. Occasionally we found ourselves walking to school together. We talked little as we walked and that was okay with me. I figured he was deep in thought working through math problems and thinking in really long multi-syllable words and complex sentences I wouldn't understand. He graduated from ISU with a doctorate as a physicist and married a close family friend from Odebolt, Jean Hanson. My father taught with her mother and Jean and I were both born in Odebolt at a time when the mothers stayed in the hospitals for three weeks to recover from such a life-threatening event. I was told we were blanket babies together. Ron, Jean, and I have connected when we could over the years and find great conversations. I figured Jean got him to use fewer syllables to better communicate with someone from Odebolt. Those of us on the left coast have some mini-reunions over the years. Soults was getting his doctorate at Stanford, Lee was at the Lawrence Livermore Labs, Dreeszen has lived here for decades, Teig was in the Monterey Bay area until he moved to Nevada and is still close, Gammack has lived near by, and Stevens lived in Bakersfield for twenty seven years. Relative to Lynn Dreeszen, we are all hoping and praying for his total recovery after his recent cancer setback. I rate him as a friend as well as a great human. The past few months he has been working in an attempt to raise money in support of Chuck Lamson's Alzheimer's care. We all know that many blows to the head as those occurring while playing pro football can lead to such memory problems. The logical support should come from the greedy bastards in the NFL, the owners and Players Association. A committee of former players recently announced an organized effort to support those players suffering from significant problems such as Chuck's. Few people probably know that players in the 1950s and 1960s made very little money compared to those playing today. Chuck's best yearly salary was $22,000.  Okay, Lynn and I have been friends with tensions. He is the only classmate who still addresses me by my detested nickname from junior high school, Cuddles. Someday when he calls me Cuddles, I will go into my inner South Park and call him by a nickname I have held for him for years.
I had many friends who were girls, but dated little. I don't guess you can't call it a date when Cal, Soults, Sucher, and Covey would go to a movie or go bowling. Girls to me just seemed too complicated. I cannot remember having a date as a sophomore.  As a junior when Celia Hammond asked me to the Junior-Senior Prom, I was glad to go with her and we had a fine time. I had some misgivings, but not because of Celia. I remembered the previous Prom when I was helping serve the meal to the juniors and seniors, I accidentally poured cream corn down the front of a girl wearing a low-cut formal. I stood there frozen, not knowing what to do, and not even capable of providing any helpful ideas for cleanup as would most other boys of sixteen.  As a senior, Katy Reed came along and she became my first steady girl friend. As I went to Kansas University, time and distance broke it up. At the 50th., I saw her for the first time in nearly fifty years and she is still is as delightful as ever.
TEACHERS
We had many excellent teachers in Ames. As many of you may have done, I stayed in touch with some of my favorites right up to the end of their lives. Mrs. Mildred Sheldon was a close friend of my parents and we stayed connected to her and her family. When she was our teacher, her husband John was completing his doctorate at ISC. When he completed the degree, they moved to Omaha and later to Council Bluffs.  When I hitchhiked back from California in 1958, I ran out of money in Council Bluffs, they let me stay the night, and then loaned me $5.00 for food as I hitched on to Ames. You recall I picked her up in Omaha five years ago for our 45th. class reunion and many of you enjoyed her as much as she enjoyed seeing you. She passed away a year later.
Another favorite teacher of mine was Grace Gleason, our fifth grade teacher at Roosevelt. She was old when she was our teacher, tough but fair, and a fine person. We exchanged Christmas cards and other letters for years. I learned of her death via a letter from one of her friends in her retirement home.
Then there was the very tough Cap Campbell, famous for his wooden paddle. If his math class was not quiet, he would suddenly pound the paddle on the top of his wooden desk and the sound would be heard down the hall.  He had been the Ames High football coach from 1923 to 1928 and had been at Central for as long as I knew about him. He was a good math teacher and junior high coach, but demanded that every player out for his teams play half of every game even if it meant losing a game. That frustrated me, but soon understood. He retired to Lemon Street in Long Beach shortly after we left junior high. After I moved to Bakersfield, I found him and his wife and drove the two hours to see him two or three times. I learned he died of a stroke in a Long Beach hospital and his wife of over sixty-five years died the same day on the hospital's steps as she left his side.
My favorite high school instructor was Rose Elliot, the Latin teacher for us as sophomores and juniors. She was over weight, had hair on her face, and we loved her. She was bright and entertaining and talked on all sorts of subjects with energy and imagination. I knew in the summer we could count on her having the Cub's games on her radio and fresh lemonade in the frig when we came to visit. She nearly always had a few students at her home when I arrived, and one was usually Joe Everds.  We talked and laughed and talked. She was so animated. She could be counted on to tell us how her two sons, Homer and Joe, were doing and that she had recently pranced downtown to shop for groceries or something. She would then come out with that huge "ho-ho-ho" signature laugh all her students knew. She spoke five languages and raised her two sons by herself. What a treasure she was. I wrote her for years until she passed away and was then notified by mail from Homer the physicist in Washington D.C. or Joe the physician near Corpus Christi, I can't remember which. I guess I loved her because she taught with such caring. I learned some of a dead language, a lot of Roman and European history, and about the intelligence and courage of a great teacher who loved her sons, students, and teaching. She was one of the reasons I started to consider classroom teaching as a direction for my life. Never underestimate the power of an excellent teacher and we had many.
Rose Elliot and Dutch Elder were two who started me to think about traveling more than a few hundred miles from. Ames. Dutch was Chuck's dad. I played many hours with Chuck at his home shooting baskets on the garage and playing catch. Inside, Dutch showed me his pictures of South America and I thought about the possibilities of future travel.
JOBS AND FRIENDS
I was nine in 1947 and started my first newspaper delivery job for the Des Moines Tribune. Within a few months and still nine, I had enough money to buy my first good bicycle, a Schwinn Black Phantom. I paid $85.00 from my earnings and with my income I was no longer eligible for an allowance at home.  Jack Stevens also started to deliver papers and we both ran on a 440 relay team representing Ames against other Register and Tribune carriers from across Iowa. We ran at the 1948 or 1949 Drake Relays and won.
My first paper route included the porches of Judy Clark, Ann McDowell, Mary Manning, and Barbara Vogt. As my routes enlarged and changed, I remember delivering papers to the homes of Chuck Elder, Jan Christensen, George Torrey, Margaret Stuble, Sandy McLarnan, Richard Simmering, Margie Hirschburg, Joe Everds, Fritz Rosebrook, and Terry Moore. Before I knew Bill Stuart, I "met" his father when their bulldog attacked and chased me into Brookside Park. The dog pinned me against a tree and there I was, eleven years old, unhurt but whimpering for my life until Stuart's father called the dog off.
By the time I was in seventh grade, I was servicing Ford Gum Ball machines downtown. I got to know Joe Prather's father better because, as City Manager, he had access to mechanical coin counting machines and let me count the pennies at City Hall.  Years later, I visited him at his retirement home in Sun City, Arizona. He passed away shortly after my visit. Nice people, the Prathers, and Joe is another good friend I miss.  In the summer after seventh grade, I worked one month in the steamy cornfields on a detasseling crew. I know many from our class also did that and some said they liked it, but not me. Fortunately, my father asked me if I were ready to join his summer house painting crew and that was the end of the cornfields for me.
Hi Covey never made more than $6,300 a year from teaching and coaching and had learned the craft of house painting as a boy. So, shortly after we came to Ames he  was painting houses and officiating football and basketball games for extra money. He recruited some other teachers and coaches, found houses to paint, and started a crew. By the time I was an eighth grader, basketball coach Ron Norman was no longer on the crew, so I joined Dad and my brother.  We painted all sorts of wood framed houses in Ames and one in Des Moines. We carried a twenty-four and a thirty-two foot extension ladder teetering on the top of our Buick to and from the sites. It became the most detested work I ever loved. My first crew was just Dad, Ancel, and me. It brought in my extra money and I will remember forever the white painters' pants and the smell of Turpentine as we cleaned up each day. We painted houses until I was out of college, then the crew was shut down for good.
IIn the summer of 1957, Cecil Spatcher came to town to teach and coach at Ames High and worked on the paint crew. He and his wife Lorene became very good friends with my parents and still live in Ames on Maxwell. We still laugh about how much more paint we had on our faces, hands, and arms than reasonably possible. I came late to our 50th. Saturday night function because I was visiting eighty-nine year old Cecil and his beautiful Lorene. More great people!
I saw Bill Stuart for the first time in years in the fall of 1992. It would also be the last time I would see him.  We were brought into the Ames High Sports Hall of Fame as Charter inductees along with my Chuck Lamson and my father, posthumously. Bill flew in from Australia and Chuck and Mimi drove from Colorado and I flew from Bakersfield and, as luck would have it, a thunderstorm in Texas screwed a connective flight. I missed the induction ceremonies. I was there the next morning and was able to visit with Stuart and Lamson. They decided to play golf together at ISU and I walked the course with them. Stuart only brought a suit and told us how he had rolled up his trouser cuffs that morning to wade Squaw Creek looking for golf balls like we had as youngsters.  Bill and Chuck had been playing golf regularly as adults, but I hadn't so I just walked with them. As we walked, suddenly it was like we were all sixteen again, joking and laughing, and the "pushes" and "presses" were flying. I couldn't stop smiling. Bets were on every hole. On the 18th. tee, the bets were for drinks in the clubhouse.  I asked if I could borrow some clubs and play in with them and they let me. We all knew who would lose the hole, and I did, but buying drinks for them was what I wanted to do so I could feel more a part of that day. None of us could know that Bill would be dead within a few years and Chuck would start to lose this memory battle in a decade. The lessons we all should remember must include "don't miss a chance to live every moment".
I miss Bill Bucholts. He became a successful dentist in Austin, Texas. We were not close friends but played football together. As juniors dressing in front of our football lockers after a practice, he talked of how concerned his mother was that he was so shy on dates. He related how he had real stage fright when he dated and couldn't say anything the whole evening. He showed me the cue cards given to him by a shrink his mother and sent him to. Some read,  You look nice tonight.    That is a pretty blue sweater.   Is blue your favorite color?   and What would you like to do tonight?  Most were questions and I learned from the cards that all a boy had to do talk to a girl was to ask questions and she would be happy to carry on from there. He would stick the cards into his pockets or under his watchband to have them handy when he needed to say something. I knew personally about stage fright, but not around girls and certainly not on dates. I didn't date. I liked Bill, but in the fall of 1955 I couldn't understand why he was worried about getting along with girls.  He was another to die too soon.
We all probably could have used therapy at one time or another during high school, and that I am certain. I worked hard at schoolwork and very hard in sports and maybe to partly avoid having to acknowledge those other urges.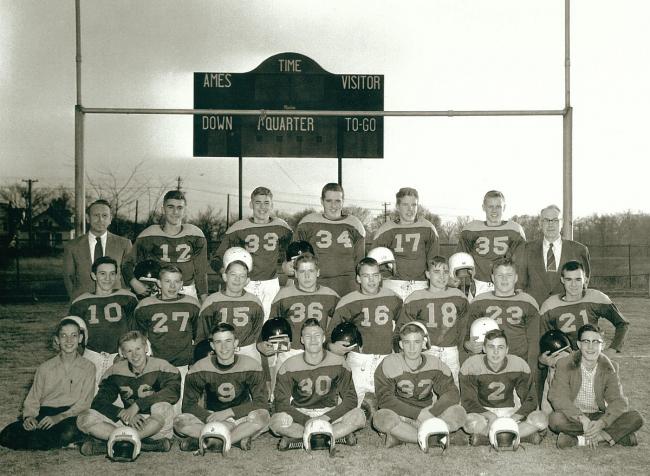 1953 Central Junior High School Football Team
undefeated and not scored upon
Back row from left: Coach Bob DeFore, Pete Getz, Bill Stuart,
Dave Sucher, Joe Prather, Bob Covey, Coach Cap Campbell
Middle row: Marv Berry, Bob Baldus, Ken Taylor, Chuck Kilstrom,
Terry Moore, Jack Stevens, Larry Munson (8th grader), Ed Musser
Front row: Trainer Kent Schack, Phil Huse, George Torrey, Larry Wilson,
Ed Bomberger, Keith Magoon, Trainer Jerry Shipley
AHS ATHLETICS - GOOD FRIENDS PLAYING TOGETHER
Athletics at Ames High was male business only just fifteen years before Title IX was enacted in 1972. Most small Iowa high schools had girls' basketball and many also had softball since as early as the 1920s, but not Ames High. I now look back on that inequality as really unfair, but it was the way it was.  Besides athletics, we had some very bright scholars and academics were very much a major motivation of everyone I knew. At AHS, we also had music, drama, a great cheer squad, Dick Day's wonderful bands and orchestras, choir, the school paper, and student government. It seemed that every person in our class was heavily involved with something.
I have often wondered why the print media gave our class recognition for contributing to five Iowa State Team Championships.  It was seven, but I guess to sportswriters at that time, the two Little Cyclone team wins at the State Indoor Track Meets didn't count. Strange.  To be certain, the least contribution of our class to a team that won a State Championship was the 1955 State Basketball team. The Little Cyclones won the game 64-58 over Iowa City High. Bill Stuart and I had been elevated from the sophomore team to the varsity early in the season as substitutes. That State title belonged to Coach Ron Norman and the senior starters, John Krocheski, Terry Rust, Ed Mezvinsky, Joe Williams, and Jack Wolf. They were excellent players and played well together the entire season. They kept improving over the season and at the end they were capable of defeating any team at any time just because of their determination. The game was at Veterans Memorial Auditorium in Des Moines. Due to foul problems, Bill and I wound up playing about half of the final game and Bill made some contributing points. I remember over fourteen thousand people watching me miss three free throws in the final quarter, but the Little Cyclones won the game anyway. I had no problem guarding my man, chasing down loose balls, and feeding the ball to one of our hot-hands including Stuart, but when I took a shot, I was scared spitless. In the final five minutes, the opposing coach was standing on the sidelines yelling to his team, foul the blond kid! and they did, but fouled the wrong blond kids. Wolf and Williams knocked down the free throws to seal the win, and we were all relieved when the game came to an end. On the way home after the game, the team stopped in Ankeny to eat at, as I recall, the Broiler Restaurant. It was owned and operated by the family of Bill Enquist, and I think Bill told me he was at the restaurant working that night. He later replaced my father as a sociology teacher after Dad's stroke and he and his wife Phyllis were great in helping my mother after Dad died in 1976.  More wonderfully good friends.  The team was served huge plates of fried shrimp, the first shrimp John Krocheski had ever seen. As he ate every piece of every shrimp, we told him not to eat the tails, but he did and said it tasted like popcorn. We were laughing so hard and having such a good time we just enjoyed his eating and smiling. What a great young man, player, and gentleman he was and another to die way too soon. Ira Berck's father offered to give every player on the team a dress shirt from his store, but we were warned not to take a gift from any store due to Iowa interscholastic rules. Berck's sold each player a shirt for five cents. I don't remember Ira ever coming to a class reunion and was sorry to hear of his passing in 2006.
H.W. Hi Covey In thirty-one years of coaching high school track and field in Iowa, his teams won thirty-one District, thirty conference, nine State Outdoor, and eight State Indoor championships.  He was posthumously inducted into the United States Track & Field Coaches Hall of Fame.
After the 1955 basketball title, our class of 1957 was heavily involved in winning the next six titles. The most fun for me were the track championships but the most unexpected and rewarding was the 1956 State Football title. The State track titles were three outdoors and two indoors. We actually won the State Indoor Meet in Iowa City as sophomores, but Dad had to give back the trophy when he learned that senior Dick Brooks, a pole vaulter who hadn't scored a point, had a birthday making him too old to compete under Iowa rules.
I know the football players in our class worked hard preparing for the 1956 football season. I separated my left shoulder (clavicle) on a tackling dummy in late summer so started practice with my left arm strapped to my side and doctor's orders not to lift my left arm for any reason for six weeks. That took me off the defensive team and that was fine with me. We had so many good athletes and very good tacklers. I liked running the ball and blocking. I enjoyed watching my friends be on defense and special teams.  Jack Stevens and I returned punts and kick-offs and we both enjoyed that. We stood across the field from each other, one of us caught the kicked ball and then we crossed. We had a team play on to run the ball down one side of the field or the other, so we either kept or handed the ball off as we passed each other. We picked this play up from the great Sooner's team of 1957 and it worked more often than not giving our team some long gains and good field position.   I sometimes had problems finding the ball and catching it when it came from above the lights to suddenly materialize. I had night blindness but didn't tell anyone because running back punts and kicks with Jack was so much fun. I did drop some punts and that led to the worst football injury I sustained during the 1956 season. It happened at Oskaloosa and I dropped a punt, jumped on the ball, but injured my right eye. I suddenly had blurry vision in that eye. In the game films on Monday, the whole team saw me poke my eye with my own right thumb and everyone had a good laugh. After three days, by vision was back to normal and I didn't drop any more punts the rest of the season.
Football injuries are far more prevalent and severe than when we played. I believe this is from two factors: wearing full face masks that encourage tacklers to use their head as a weapon and from the use of anabolic steroids. Steroids with weight training make athletes bigger, faster, and can provide a definite personality change called "roid rage".  The only way to control the use of steroids is to develop an inexpensive and accurate urine test to detect performance enhancing drugs so all ages of athletes may be tested.
As we played our first football games in the fall of 1956, athletes of the world competed in the summer Olympics in Melbourne, Australia. Just four years later, a former Little Cyclone athlete, Cliff Cushman, would run the 400-meter hurdles at the 1960 Rome Olympics placing second. The popular Ames physician and AHS team doctor, Ernie McFarland,  flew to Rome to see Cliff run. McFarland made a habit of attending every Olympic Games until his death in 1964. He saw Cliff run in Rome wrote and mailed a card from Rome to my father as he waited to board his plane home. He described Cliff's great race and how proud he was of Cliff and Ames. In 1964 he founded the McFarland Clinic. That same year he went to the Tokyo Olympics with the parents of David's wife, Susan, as a part of an around the world trip. They flew from Tokyo east on the trip and Ernie died in Cairo. During World War II, Ernie McFarland was a young medic in the Pacific. As his son David (class of 1958) recently told me that his dad had won enough money in a poker game on Saipan to build McFarland Lake. He built the lake in 1946 and hosted picnics for Little Cyclone football and track teams. He was an enthusiastic team doctor and Ames High contributor. It is my opinion that from his many contributions, he should be considered for induction into the Little Cyclone Hall of Fame. In fact, both Ernie and our other team doctor Lee Rosebrook should both be in the Hall of Fame for all their work.
Cliff Cushman was a year ahead of our class but a close friend of many of us. As a sophomore in 1954, he was already an Eagle Scout as he won the State Meet mile run at Drake Stadium. His winning time of 4:27.5 was the fastest mile ever recorded in the world by a fifteen-year old. That summer, Cliff moved with his family to Grand Forks, North Dakota. His father had been named a department chairman at the University of North Dakota.  The Little Cyclones won the 1955 and 1956 Iowa State Outdoor Track Meets at the same time that Cliff single handedly won the North Dakota State Meets for Grand Forks Central High. He entered Kansas University and a year later Jack Stevens and I became two of his apartment mates. His career in track was amazing, a champion at all levels. After graduation from K.U., he followed his ROTC responsibilities and entered the Air Force. He trained to fly jet fighter/bombers. In the summer of 1966, he, his wife Carolyn, and infant son Colin stopped in Bakersfield to see me. At the time I lived in an apartment and as he sat and talked to me, I learned he was on his way to Los Angeles to be shipped out to Vietnam. I asked why he wasn't wearing a wristwatch and he responded, "I want time to stand still; I don't have a good feeling about going to Vietnam.
He left for the war a few days later and on September 25, 1966, his plane was shot down over Vietnam by a surface-to-air-missile (SAM). He was "Missing In Action" (MIA) for seven years and then was officially listed as "Killed In Action" (KIA). He was one of the fifty-eight thousand American men and women who lost their lives in Vietnam. History has recorded that war as a shameful mistake for U.S. involvement. He was the only friend I lost in Vietnam. I have gone to see the Vietnam War Memorial in Washington D.C. many times and every time I find his name I cannot hold back the tears.  When Cliff was posthumously inducted into the Ames High Little Cyclone Hall of Fame, I came back for the induction ceremonies as did his widow, Carolyn, and son, Colin, then over thirty years old.  Also in attendance were the widows of two of his coaches, my mother Mildred and Ada Easton of Kansas University.
His KU teammate Billy Mills also attended and asked to speak.  Mills told of how Cliff had inspired him to try again and again when he had so many disappointments. Mills was an orphaned Sioux Indian and we had entered KU and became friends. In 1957 I invited him to spend his first Thanksgiving as a KU freshman with my family in Ames. He later told me it was the first time he had spent a night in the home of a white man.  In 1964, Mills became the surprise winner of the Olympic Games 10,000 meters at Tokyo. He still is the only American to have won that event in Olympic history.
Back to 1956 football, it was a typical-for-that-time all-white Ames High team that took the field. The Martins were the only African-American family living in town at that time and their son, Don, was in our class but didn't play football.  Ask any winning coach, teams win championships because of talented athletes who have good character and a commitment to work hard. There are also important elements of luck involved, but good coaching and talented athletes come together as was the case at Ames High School at that time, something good was bound to happen.  I think we all knew we could be a very good football team. After winning most of our football games in 1955 and winning the 1956 State Meet in the 440 and 880 relays in track, we knew we had some of the fastest runners and best athletes in Iowa. We also had a lot of seniors on that team and, at Ames High at that time, "senioritis" was not spoken.   As a member of the backfield, my coach was Kenny Wells. My father coached the interior linemen on offense and defense and Wally Linn coached the ends. Winning had become a tradition with the teams coached by both Wells and Covey. Linn had been at AHS only one year as the varsity basketball coach. He had replaced the respected Ron Norman in a tradition of basketball excellence and Linn's credentials as a winning coach had yet to be tested.  By 1956, Ken Wells had nineteen years behind him at Ames with many winning teams. Hi Covey had coached football, basketball, and track for twenty-four years including twelve at Ames High before the 1956 season.
Coach Wells and Chuck Lamson at the Ames High Fieldhouse
Wells was not famed for his "win-one-for-the-Gipper" speeches. He was a quiet and no-nonsense man, pleasant but tough and sometimes mysterious.  He had a proven good football mind. He had a way about him and his athletes did not want to see the bad side of that way. He was more like a stern father who seldom smiled. He seemed to have a pleasant-stern side or an unhappy-stern side, and it was easy to tell the difference. He seldom said "nice job", but, when he did, it was on the pleasant-stern scale.  With Coach Wells, you couldn't relax.  He wanted perfection with football skills. Once in a game against Oskaloosa, while playing defense, I knocked a ball carrier off his feet with a block and he took me out of the game and told me to wrap my arms around him and make a tackle next time. He wanted football perfection, and that was a part of why he was so successful.  We trusted his judgment and teachings. Before each game, he held Sunday evening meetings at his home with the quarterbacks and captains to discuss the previous and next games. We did watch our recent game films and received some scouting information for the next opponent, but Coach Wells believed, as did Woody Hayes and Vince Lombardi, that games were won with execution of fundamentals and plays and not from making changes to take advantage of the weaknesses of opponents.  At practice, Coach Wells would yell reminders like "keep your head up and your butts down", "hit 'em in the numbers", "keep your feet under you; don't go down so easily", "put the ball away", "hit the hole faster", and "keep your eyes on the ball". In a game, each of us felt we had the tools to win and it was up to us to use what we had practiced and dig down and find a will or a way to beat the opponents.
Finally, and this may seem strange, I think we at Ames High at that time truly believed we should win most games We didn't really believe the athletes from the Central Iowa Conference schools - Marshalltown, Grinnell, Oskaloosa, Newton, and Boone - should defeat us. We were not so confident against the larger schools, but we still felt we could play with any other high school team.
Our best football player, quarterback, and team leader was the incredible Chuck Lamson. Chuck's father, Bob, coached at Iowa State. As a high school coach at Webster City, Bob Lamson was a legend. Old-timers there still remember how he could walk into most restaurants in Webster City and eat for free. At Iowa State, he gained his greatest notoriety as the Cyclones assistant basketball coach. In 1958, he was credited with devising the scheme to place the Cyclones 5'10" All-American guard, Gary Thompson, at center against KU's 7'2" center, Wilt Chamberlain. Thompson took the ball and dribbled mostly to the right of the basket drawing Wilt outside. He then hit hook jump shot after hook jump shot. It was the year that KU was beaten in the NCAA finals by North Carolina and the Cyclones defeated the Jayhawks twice, including that memorable game at Ames when ISU won by three, John Krocheski played, and temperatures outside the Armory were twenty-five below zero.  Chuck Lamson was our quarterback and best defensive player. At 5'10" and 175 pounds, where being quick is more important in football than being fast, he was both. As a defender he had an uncanny sense of knowing where a play was going and the will to hit harder than anyone I had ever seen. As our quarterback, he was a ball carrier difficult to bring down and as a passer he could throw a football accurately on the fly over eighty yards.  Lamson was an outstanding athlete and that was proven at the 1957 State Track Meet where he ran on the winning 440-relay team before winning the football throw and the long jump. He was the only athlete in the meet to win two individual events.  In football, Lamson wanted to win more than anyone I would ever personally know. When his team lost, he would sit in front of his locker after the game totally spent with tears rolling down his cheeks. When playing for Wyoming at KU, I was at the game, KU won, and I went into the locker room to see Chuck. There he was, crying in from of his locker. In a preseason game in Minneapolis, his Vikings lost, and, again, Chuck wept.  I wanted to say, Chuck, this is a pre-season game, but it made no difference to him. I had breakfast with him that morning before the game and he could hardly walk with muscle injuries. He told me he would be taking some stuff that would make him okay, but I didn't believe it. At the game he was flying around the field busting tackles like I couldn't believe. His commitment was what made him different and able to play in the NFL so well for seven years.
After high school, it was expected that Lamson would enter ISC and he started there. In a game against Oklahoma University his sophomore year, he made 76% of the team's tackles in a losing cause. His performance brought him national recognition. For personal reasons, after his sophomore year he transferred to Wyoming University. He played two years on both sides of the ball for the Cowboys' as quarterback and linebacker and earned All-American recognition. He became the second draft pick by the new NFL franchise, the Minnesota Vikings.  Chuck played two years with the Vikings, was traded to the Philadelphia Eagles but was injured and couldn't play the finished his career playing five years with the Los Angeles Rams. Some years later he showed me some of his scars and wounds. I asked if he would do it again, and his answer was "in a heartbeat".  Bill Stuart was another of our team's stars. At 6'4", agile, strong, and fast, he was a great pass-catcher and nasty-tough. He ran the 440 in just over 50 seconds on our State Championship mile relay team, but his best sport was basketball. He led the Little Cyclones in scoring his last two years at Ames High. He completed his university education as a starting basketball forward at Wyoming University and then became a Fulbright Scholar to Australia.
For our football teams in 1956 and 1957, Stuart was a great left end. After the season, Coach Wells tabbed him "the best end in Ames High history" and Lamson was named "the best tackler in school history". Both Lamson and Stuart were selected to the All-State First Team, the first time since 1932 that two Ames players were named to that team in the same year.  They were also named to the All-Midwest and All-American high school. teams.  With Stuart at left end, Dave Sucher at left tackle, Larry Munson at left guard, and Terry Moore at center, the left side of our offensive line was as good as any we played against. At left halfback, I was behind those men and appreciated what they did to open gaping holes for my runs.  As a senior, Sucher was listed at 192 pounds, but he played his junior year at 230. He was strong, quick, and agile, a very good athlete who also played well in basketball. He was also very popular and was elected AHS Student Body President and Captain of the 1956 football team. He was kind, funny, and had a rollicking laugh, all of which he has retained.  Our center, Terry Moore was very quiet, like his father, Bert. Coach Bert Moore  probably never received the recognition he deserved. He was an excellent coach. While coaching high school in Fulton, Missouri, he discovered a talented young woman runner, encouraged and coached her toward track and field stardom. She was Helen Stephens and she won the women's 100-meter dash at the 1936 Berlin Olympic Games. Her time of 11.5 seconds was a new Olympic Games and World Record. She was probably the most famous person in Fulton until in 1946 Winston Churchill came to town and delivered his famous "Iron Curtain" speech.
Terry, besides being a great center in football, had the best bass voice in the AHS choir. I know, I stood next to him and enjoyed his range and volume. He probably inherited his voice from his mother, who had to choose between going to New York to sing professionally or get married and raise children. I was raised by a mother who taught piano and sang soprano solos in the First Methodist Church choir, so I knew what good singing was. Terry's mother was our vocal music teacher at Roosevelt and, I can tell you, she was very, very good.  As a center on our football team, he played every important minute of every game and never failed to successfully snap the ball to Lamson then made his block. For the uneducated in the ways of football, playing center is one of the most exacting positions on the team and requires strength, toughness and skill. To pass the ball through your legs to the quarterback takes time and touch when the quarterback in at your butt. To make the long snap back to the punter or the man holding for the extra point kicker, and make it on target time after time, that is very difficult and valuable to the team. I know Terry never missed making the long snap back to our kickers or to Lamson who held for my after-touchdown extra-point kicks. When I missed an extra point, it was not the fault of Moore or Lamson.  In 1969, Terry was deservedly on the list of the best AHS football players from the previous forty years.
The right side of the line was excellent as well. The starters were the excellent Ben Fellows at right guard, the very strong Bob Berry at right tackle, and the athletic and fast John Murray at the right end. Murray was also a very good sprinter, led off our State Championship mile relay team and was an outstanding athlete.  The starting backfield in our Oklahoma split-T formation was Lamson at quarterback, Chuck Kilstrom at right halfback, Jack Stevens at the fullback, and I played left halfback. In the Ken Wells scheme, the fullback (Stevens) carried the ball some, but mostly led nearly every running play as a blocker.  At 5'10" and 155 pounds, Stevens was small for that assignment, but he was a good ball carrier and fearless blocker and tackler. In track, he was the State high school pole vault champion and the first in Iowa to jump over thirteen feet. His value to the football team was unquestioned by all the Little Cyclone coaches and players.  Kilstrom was a good athlete in football, basketball, and track and a good tackler.  He was strong and fast. His ball carrying and blocking were dimensions of our running game that kept the defense honest and was a major reason we went undefeated.  When our starting backfield was not playing, the juniors Gary Ellis and Don Milliken were the first to come in. Ellis played both halfback positions. In fact, we had a host of excellent substitutes as was demonstrated the following year when that team also went undefeated.
Ellis was our best punter and developed so well he became the Cyclone punter after graduating from AHS in 1958. With our starters, we had easily the fastest backfield in Iowa high school football. Lamson, Kilstrom, and I were on the State Meet winning 440 relay teams for two years. I had won the State Indoor and Outdoor Meets at 440 yards as a junior and would again as a senior, but I did not have the quick, football speed like Lamson, Kilstrom, and Stevens. I needed a few steps to get to top speed to be effective as a ball carrier, so stayed good friends with my blockers.
Our bread-and-butter plays came from the team speed we had and Lamson's throwing to a number of good receivers. The passing plays usually were to Stuart, Murray, or the junior Jim Dresser, but there were others. Without being multi-dimensional, we would not have defeated Newton in our first conference game and Des Moines Roosevelt in our seventh game. Against Newton on their field, we could make short gains, but our best running plays were stopped by Newton's defense and our own penalties. Newton defended Stuart with two men on every pass play and their defense and our mistakes kept us from scoring.  Newton led 0 to 6 most of the game and into the fourth quarter. Finally, in the huddle with only a few minutes to play and twenty-four yards to go for the end zone.   Lamson told Stuart to go down field toward the goal line for fifteen yards then cut sharply left toward the sideline. I was told to trail Stuart and if two defenders followed him toward the sideline, I was to run straight for the goal post hoping for an open field and no defenders.  It worked; Newton's defensive backs shadowed Stuart and Lamson hit me with a perfect pass that scored. The game then was tied 6 to 6 and the extra point kick gave us the 7 to 6 win. From that game so early in the season, we stood at the top of the CIC standings.
Our team record was 6 and 0 as we entered our seventh game against a very formidable Des Moines Roosevelt team at Drake Stadium. On a chilly night, Roosevelt had us defended perfectly and led at the half 7 to 14. In the locker room, we were not certain what would work, and then Coach Wells told Lamson he felt the option keeper was open and told him to run it every play the second half until he was too tired to run or Roosevelt changed its defense. Roosevelt never changed its defense and Lamson followed orders. We backs kept working our fake sweeps, and Lamson piled up 183 yards mostly in the second half, scored four touchdowns, and we won the game 27 to 14. The Des Moines Register & Tribune sports writers were then aware of Lamson as the great player he was and of the Little Cyclones as deserving to be at least number two in the State high school poles. For the first time we felt we just might be as good as any team in the State but needed the State leader, Davenport, to be defeated or tied.
With one game remaining, we were still ranked behind Davenport with little hope of winning the "mythical" State title. We had one conference game to play the following Friday against Boone, a game we won 28 to 0. Davenport was scheduled to play Cedar Rapids Roosevelt the weekend after our Boone game. A Davenport win would give them the State crown for the second year in a row and was held at Cedar Rapids. I talked my father into letting me drive the family red VW to the game. I cannot remember exactly, but I think my passengers were Bob Callahan and Dave Sucher. The game ended with the score tied 13 to 13, giving us hope.  With our perfect season and their one tie, the next week it was announced that we had won the State title. It was the first time all year we had been ranked first in the state and Davenport finished the season at number two. A year later, both Ames High and Davenport finished the season undefeated and Davenport was given the State Championship trophy.  Two weeks after our final game, it was announced that Lamson, Stuart, Sucher and I were selected to the All-Conference first team, Terry Moore, Chuck Kilstrom, Bob Berry, and Larry Munson were named to the second team, John Murray and Ben Fellows were named to the third team, and Jack Stevens and Gary Ellis were on the Honorable Mention list.  One week later, the All-State teams were announced and, as mentioned earlier, Lamson and Stuart made the first team. A week later, they were named to the All-Midwest and All-American teams.  Dave Sucher was named to the All-State fourth team and Berry and I were Honorable Mention. We all knew that Moore, Kilstrom, and Fellows played as well as any we saw that year, but that is the politics of such things.
In 1969, the living football coaches nominated the best players from the previous forty years of Ames High football. Picked from our team were Chuck Lamson ("All-time best back"), Bill Stuart, Dave Sucher, Terry Moore, John Murray, and Larry Munson (class of '58).
The Monday after the Boone game, those of us wanting to play basketball reported to Wally Linn to prepare for that season. Many of the remainder of the football team took some time off but soon started to train for track. That 1956-57 basketball season finished with AHS well down in the standings in the CIC at 5 and 5. We were hugely disappointed. Coach Linn had attempted to install a screen and jump-shot offense with players who had been taught an offense called pass-and-cut to utilized our team speed. Our 5-5 record was hugely disappointing. In fact, the big positive memory from that season was the seven overtime game against Marshalltown. We won it 53-51 on Jim Dresser's (class of '58) jump shot.
For many of us, our final athletic season in the sport of track and field completed our high school athletics to near perfection. Half the boys attending Ames High were out for the track team, one hundred twenty five strong. We all worked hard to repeat our undefeated season from the year before. Hi Covey was the head coach assisted by Ken Wells.  That track and field season was more difficult due to weather. Eight of the ten scheduled meets were run in rain or directly after a storm, including the State Meet. At the State Meet held at ISC, our team outscored the second place team by eighty-five points and won eight of the sixteen events including four of the five relay events. And, the AHS relay that did not win placed second. In the history of Iowa high school track and field, no school had ever dominated the State Meet and won so convincingly.
The following week, a few of us competed at an open meet at Drake Stadium in Des Moines. We finally found good weather. Jack Stevens, who had won the State Meet pole vault, won at Des Moines with his best jump of 13 feet, the first time any high school athlete had cleared that barrier. My father had won the 1924 Iowa High School State Meet 440 dash, so I was especially thrilled to have duplicated his win in both 1956 and 1957. I ended my high school track career at Des Moines by winning the 440 with the fastest time in Iowa high school history, 48.8 seconds. Then, in the final event of the day, our mile relay team ran 3:21.3 seconds, the fastest time in State history and equaled the fastest time in the nation that year. The team was Ed Bomberger, Stan Scholl, Bill Stuart, and I anchored. For us, it was a perfect ending to near perfect season.
Upon graduation, like everyone else, I knew I was ready for the next step. For me it was more schooling, a career, marriage, raising two children, a divorce, a second marriage,